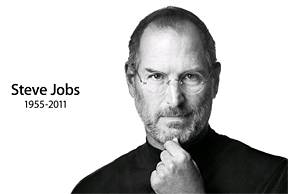 I have been deeply touched by the death of Steve Jobs. I know it sounds melodramatic but I can't help it. Since I heard the news last night I've been mourning his death as if he had been a close friend. I've been asking myself why is it his death has hit me so hard. There have been other celebrities or public figures that sadden me when they die – especially if their passing was premature. I remember being upset when Lady Di was killed in that senseless car accident, but I don't remember mourning her death to this degree.
Maybe it was his determination that inspired me. A determination to follow your dreams no matter what anybody says because if you love what you do you will persevere and the dots will connect.
R.I.P. Steve Jobs.
************************************
"Your time is limited, so don't waste it living someone else's life. Don't be trapped by dogma – which is living with the results of other people's thinking. Don't let the noise of other's opinions drown out your own inner voice. And most important, have the courage to follow your heart and intuition. They somehow already know what you truly want to become. Everything else is secondary."
— Steve Jobs

Frank Prieto is a marketing strategist helping small business owners generate qualified leads from the internet, and convert more of them into customers, clients and patients.