Did you know that your Google ads may automatically be using Dynamic Callouts without your knowledge?
While previewing one of my own marketing ads inside the Adwords Preview Tool, I noticed text in the second line of my ad that I've never used before (in an ad.) I thought it might be a glitch with the Preview Tool, but I found the same thing doing a live search on two different computers with different ISPs.
I thought this must be a bug in the Adwords system so I emailed a screen shot to my Google rep who didn't know why this was happening either. He asked me to call the 800 number that deals with technical issues. The Google rep at the 800# was as surprised as I was when she saw the screen shot because I don't have dynamic ads or any call extensions running on this particular campaign.
To make a long story short, she had to research the issue and called me back at the end of the day saying that I was automatically opted in to Dynamic Callouts and I would have to fill out an online form to opt out. — "Are you kidding me?" — "No sir, Dynamic Callouts are a good thing". — I politely told her that I was surprised Google automatically opted me into something that affects my ad copy without telling me. Who knows, maybe I got the email and didn't see it, but the point I'm making is that you shouldn't be automatically opted in to Dynamic Callout Extensions.
Anyway, I wanted to share this because if you see your Google Adwords ad with copy you didn't write that is probably what's happening. I can clearly see the benefit of Dynamic Callouts because Google knows more about converting clicks than anyone else. The algorithm pulls text from your landing page to put in your ad and surprisingly pulls features and benefits which is pretty cool.  But you need to be aware of this because you may not want to start the conversation with "Cancel anytime" which is what my ad was saying.
I don't recommend you opt out of Dynamic Callouts without first learning more about it – especially if you're a small business owner who manages your own Adwords account. Google's black box knows a lot more than you think about getting you good clicks, so Dynamic Callouts may be a good thing for you.
If you decide to opt out of Dynamic Callout Extensions, you'll have to jump through a few hoops. Login to your Adwords account and follow the steps on the screen shot below. You will reach a page called: 'Understanding dynamic callouts'. Scroll down to the 'Managing dynamic callouts' section and follow the instructions on the third bullet of that section.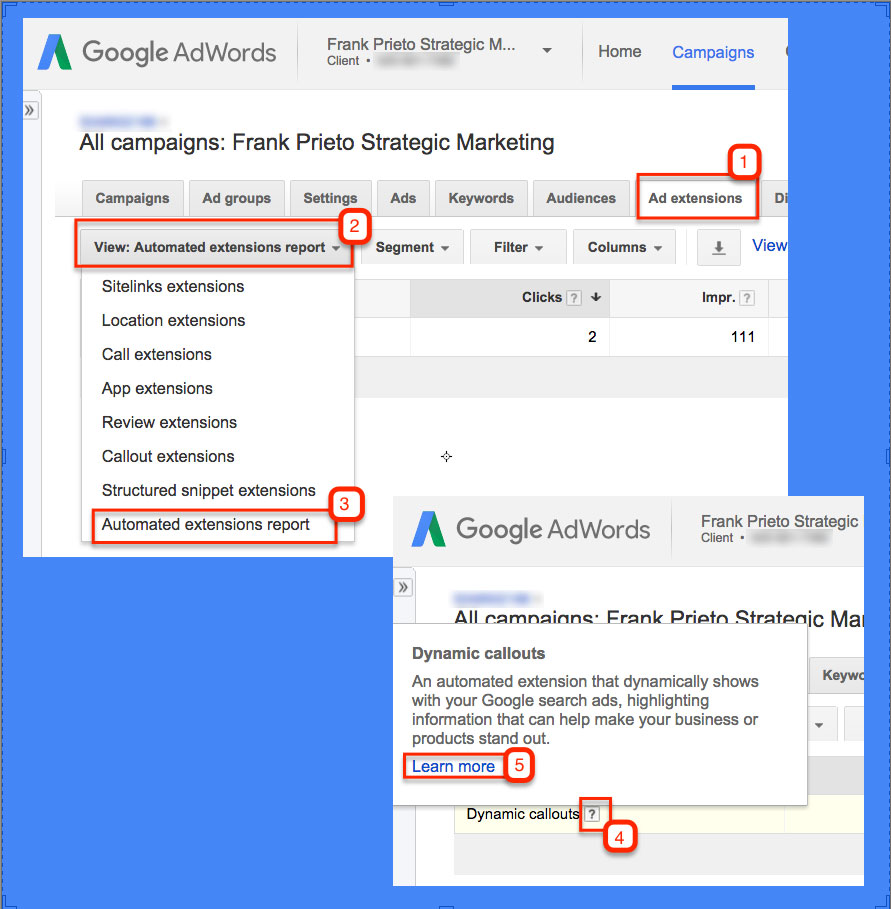 Frank Prieto is a marketing strategist helping small business owners generate qualified leads from the internet, and convert more of them into customers, clients and patients.