NOTICE: Please watch this short video to the end before attempting to make any changes to your Google Places listing.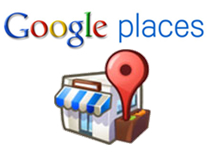 Google is constantly making changes to their algorithm in general, but there is one area where most of the changes have been taking place for a good while now making it difficult to keep up with – and that is Google Places.
Google sent out an e-mail today to local businesses that have a Google Places listing saying that they (Google) will be soon automatically updating their business data. It goes on to say that Google uses many sources to determine the accuracy of their listing data in order to provide the best possible experience for business owners and consumers who use Google and Google Maps to find local information.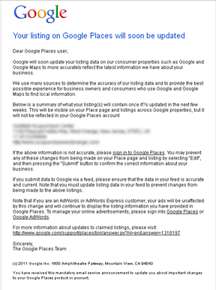 I'm used to getting e-mails from Google and I read them all. Most of the time is just information which is important to me, but not necessarily important to my clients. However, today's e-mail is of critical importance to any local business that depends on Google Places for traffic to their website.
You see, Google Places is one of the best traffic sources for local businesses because it's FREE, and most importantly because your listing shows up at the top of page one. OK, maybe your listing is not among the 7 pack so it's not going to show at the top of page one. If you want to learn more about getting your local business listed in Google Places you can grab a copy of the Small Business Guide To Google Places on the sidebar at the top right of this page.
DISCLAIMER:
OK, let's see what's going on with this "automatic" listing update – but first let me insert a disclaimer here; What I am going to share with you in this video is my opinion based on my experience in SEO and experience in optimizing Google Places listings for my clients. As you probably know Google is very secretive about the way their algorithm ranks websites. This makes perfect sense otherwise the spammers would be gaming the system and manipulating the results. Therefore I will not be held responsible for any changes you make to your listing that may result in your listing disappearing from Google Places. There is a risk associated with this and you are on your own. Tread cautiously.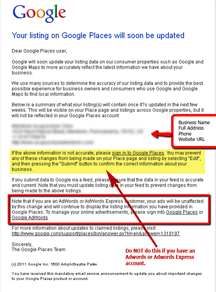 Here's a screen shot of the e-mail and this is what you want to pay close attention to because if you don't it could hurt your listing. When I say hurt your listing, I am assuming your business is already ranking among the seven pack as you see in this screen shot. If your listing is not ranking among the 7 pack in Google Places then you can be a bit more cavalier about what I'm going to suggest.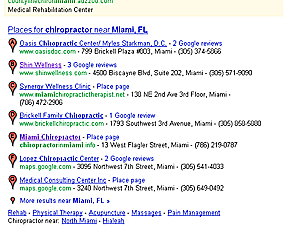 In the e-mail Google tells you what your listing will contain after it's been updated. Obviously if this information is wrong you need to update it. However, if the information is correct, but you want to edit the format because maybe you prefer to have your phone number showing with dashes instead of how Google is showing it – assuming it's correct DO NOT touch it. As long as the information is accurate, don't mess with it -especially if your business is already listed in the seven pack.
The other thing you need to know, which is also stated in the e-mail is that if you already have an Adwords account or Adwords Express account, you DO NOT have to make any changes to your listing. This is very important because as you see in the e-mail, this is stated after the fact and I'm afraid some business owners might start making changes before reading the entire e-mail. By the way, if you've hired someone to take care of your online marketing you shouldn't have to worry about any of this. If they're doing their job your local listings should be in good shape.

OK, you would think this is pretty much it, but there's something else that caught my attention and raised some concern. At the very bottom there's a link with a link and it says; "For more information about updates to claimed listings, please visit: (and it shows the link) http://www.google.com/support/places/bin/answer.py?hl=en&answer=1318197"

When you click on the link you're taken to a page that shows the edits Google may make to your listing. Take a look at the last bullet point -it says your listing could be labeled "Permanently Closed"… Whoa… I don't know what the chances are that that can happen. I'm pretty sure if you have an Adwords account it would very unlikely your listing will get this terrible label. But just to be on the safe side, it can't hurt to check it once a week for the next few weeks just to be on the safe side. If you do happen to find your listing labeled as "Closed Permanently" you can click the "Not true" link and resolve the issue.
There's one more thing I want to make you aware of in case this applies to you because if it does you'll want to watch my next video. —
Remember the Google Boost ads?

The Google Boost ads were discontinued, but they're back now as Adwords Express. If you're using Adwords Express, there's something very important you need to know about untargeted traffic that's costing you money.
I'll share it with you on my next video so do this now so you don't miss it… Enter your name and e-mail address on the sidebar at the right so I can notify you as soon as the video is ready.
If you found this information useful please share it with your business friends or anyone you know who has a local business. They'll thank you for it and so will I.  Feel free to leave your comments below.

Frank Prieto is a marketing strategist helping small business owners generate qualified leads from the internet, and convert more of them into customers, clients and patients.